All pictures can be enlarged- just click on the picture!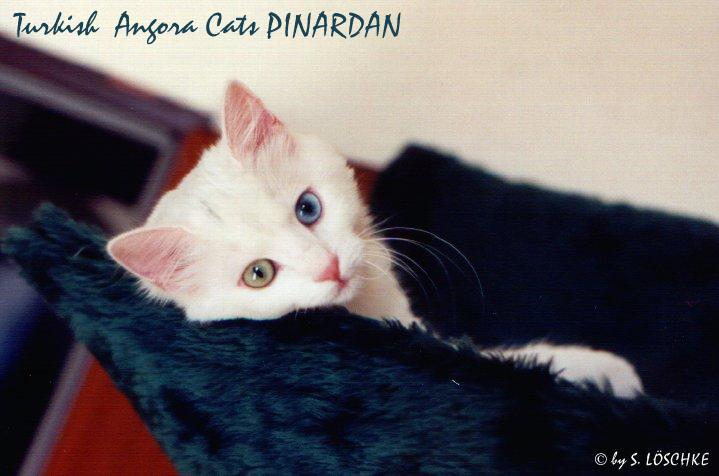 I've been looking for my dream cat for long time. I knew exactly, what I wanted her to be: a white, odd-eyed, female Turkish Angora. A healthy robust kitten, my little breed being founded on.
Contacting several native breeders, my phone bills increased astronomically. I searched and found contacts in the web, even an advertisement was put, but I didn't find my dream kitten. During that time I became acquainted with a lot of breeders including their Philosophies. I also came along with quite a few Turkish Angoras. That was very interesting. We talked and I learned a lot. I developed my own imaginations more and more.
In Bochum I had the chance to take a look at some Turks which were imported from Ankara Zoo and I was enthusiastic about them. I would have loved to get one of them! But the export of white Turkish cats, especially odd-eyed ones, is illegal.
Back in Munich, I tried to obtain an export license from the Turkish government- and was extremely happy when I actually got it.
This was my first portion of luck, without it wouldn't have worked. Equipped with names, addresses and many valuable tips for the practical procedure (which we got from those friendly and helpful breeders in Bochum) we started to plan our trip to Turkey. Besides the export regulations you have to pay attention to several import conditions, especially if you want to import a very young, maybe still not vaccinated animal.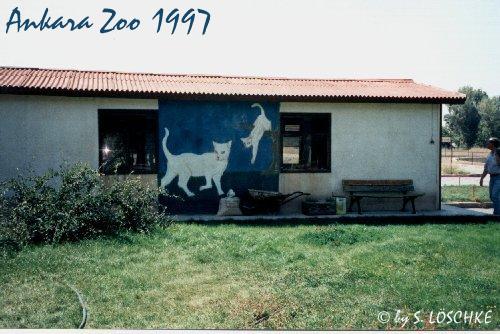 So we went on our trip to Ankara, the source where from the Turkish Angora (=Ankara ) once, after nearly dying out, in the 60s made her way around the globe again.
When we arrived, we rented a car and visited the Zoo, before we looked for a hotel. I had heard and read a number of things about the Zoo and had seen pictures in the web, that did not appeal to me. Latest reports however were very positive. Altogether the informations were so contradictory, that I didn't know what to expect.
With very mixed feelings we entered the zoo, looked for the way to the cathouse and stayed in devout admiration. There they were! A short moment had to be enough that day. Being late we hurried to the administration building, to submit our request.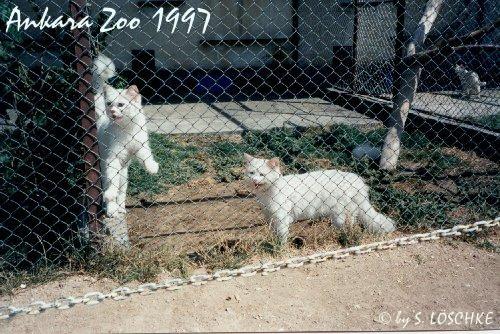 Anyway this first sight was reassuring , friendly white cat faces looked towards us being very interested. We were prepared for the language barrier with a letter and several notes in Turkish. What we couldn't know was, that the director, who the letter was for, was on vacation. With hands and feet they told us to come back on Monday morning. A bit disappointed we left to look for a hotel.
That weekend we were on the road day and night, investigating the Turkish Angora. At first sight I couldn't spot an odd-eyed kitten in the zoo, so we wanted to take any other chance to look around. Strangers searched advertisements in newspapers for something along these lines, made phone calls for us and guided us to remote districts, where someone wanted to sell an Ankara Kedisi (Ankara — cat). With our wish for odd eyes ( they are called Van Kedisi) there was further confusion.
Well, these trips brought us together with many friendly people and a lot of cats. There were plenty of misunderstandings and quite a lot to laugh. We found everything- but not my dream cat. As colored Angoras are nothing of special quality in the eyes of Turkish people, you can frequently see them roaming around the streets.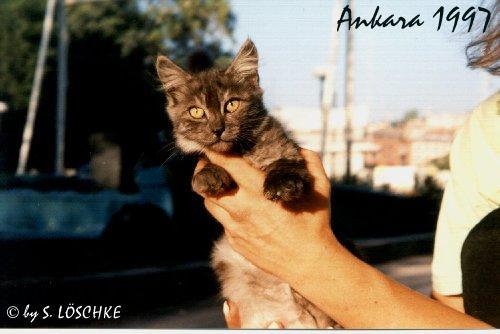 In the streets and parks of Ankara we saw, petted, fed and photographed many colored Angoras, a pretty one was blacksmoke. They vary extremely in type and fur. But each of them has that charming friendly character, like we know it from the Turks in Germany.
I exceptionally liked a 2 ½ year old, female, black/white cat, which lived in a smoky nightclub. She had probably chosen this place to live because of her good connections to the cook. A dream of a Turkish Angora! Graceful and elegant with an almost endless long tail, a fine slender head with big, well set ears and a wonderful character. Unfortunately I only succeeded in taking a photo of one of her kittens .
Monday morning we punctually returned to the office of the zoo. What a big surprise! The director had been informed of our visit and already expected us. I'm sure that wouldn't have happened here in Germany. He, his assistant and the animal-keepers were extremely friendly. They did not speak German neither very good English and we do not speak Turkish, so there were limits to serious informative conversation.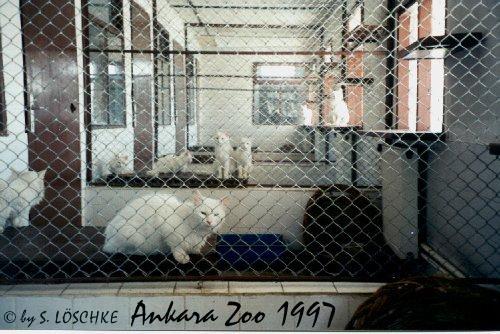 We could walk all around the cathouse and I had enough time to see everything and photograph it. Even though the cats there certainly didn't have the personal attention they deserve, the keeping conditions were far better than I had expected. In- and open-air enclosures are sufficient large the indoor rooms heatable. There are litter boxes and baskets for every group, the toilets were clean. The open-air enclosure is 1/3 concrete over, 2/3 of the floor space consists of soil and grass. Bushes, which spend shade, are planted partially. Cat doors are integrated, so the animals can chose themselves, where they want to go.
In the zoo the Angoras differ in type as well. They are not bred by a standard there. The old existing bloodlines are maintained by specific matings.A studbook has been written since the beginning of breeding Angoras in the zoo.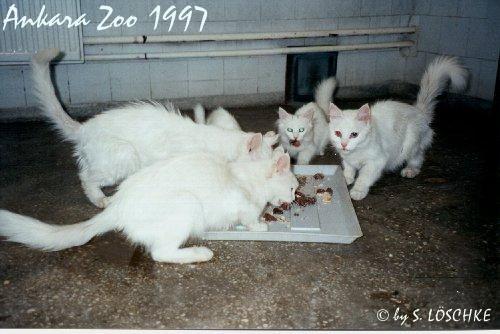 I couldn't see any aggressions between the cats. The cat groups are mixed, mostly one stud, 1-2 females and 1-4 kittens differently aged but never more than 5-7 animals in a group and cage. The space proportions of some breeders in our country are worse.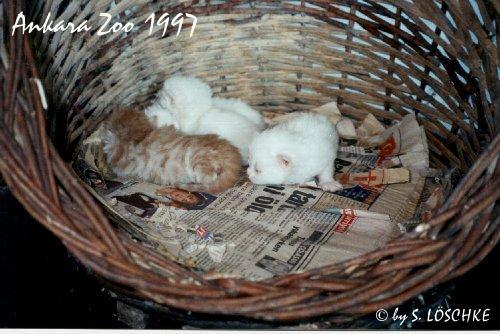 Although I saw only white adult Angoras, there were red/redsilver? tabby, black/white nonagouti and black tabby blotched/white kittens..
Only a few cats looked neglected and shaggy, most of them were very clean and nice. Each of them was curious and friendly, but not all are tame. At least I wasn't able to touch each of them. In order to determine the sex of one odd eyed kitten some people had to go through a lot of hassle before the kitten could be caught. It rushed inside, then out again, into a bush and so on. Waste of time, it was a tomcat. I felt awful about all the trouble I had caused!
We visited the zoo every day up to our departure. And then suddenly during feeding we discovered my dream cat. Those baby-blue eyes one day before, now showed a fine gray shimmer on one eye. The eye color began to change!
This was my second portion of luck. My little star from the Zoo of Ankara! All people shared my joy. The formalities were finished quickly. I didn't let loose of Yildiz any more. No more interests for the studbook (shame on me!), only some essential practical information, which I could find out myself: She was full of temperament, funny and affectionate, just as a kitten should be. She talked a lot and bolt down her food. The parents are both white, a green-eyed pretty female and a blue-eyed male. I took pictures of both. In my opinion they both could hear well. They showed no kinked tails. Yildiz has a black hat. The left eye is blue, the right one is green. She was the strongest kitten of the litter, all 3 were white. Now she's mine and I will never give her back! The next day we happily departed with our Turkish girl.
Although we had an export license, there was a delay at the customs clearance. With white cats the officers adhere strictly to the law. The joke of one officer «Cat stays Turkey!» put me completely out. He is probably still amused by the sheet-white face I had in that moment!
Enclosing some further remarks: Much to my delight Yildiz is as social and human-related as Turkish Angoras, raised in a loving hobby breeders house in this country. Exactly these characteristics, I deeply love this breed for. The doubts I had, to bring a semi-wild zoo animal into our house, were unnecessary. It seems, that it depends much more on the right time to integrate them and that the lovable nature is being trained by the early contact with humans. Yildiz had no flees nor mites, only a mild Kokzidiosis without diarrhea. One eye was slightly infected but that was quickly repaired. Otherwise I am very contended with her healthiness. As a precaution I stayed with Yildiz at my mother's house who has no own cats. Meanwhile Ed went home to our Neuters. First vaccinations and blood-tests were done, she was tested FIV- FeLV- and FIP negative. Then we moved to her final home. We repeated the tests at the age of 16 weeks. Everything OK. She got all important vaccinations, and thus the base for a long happy cat life.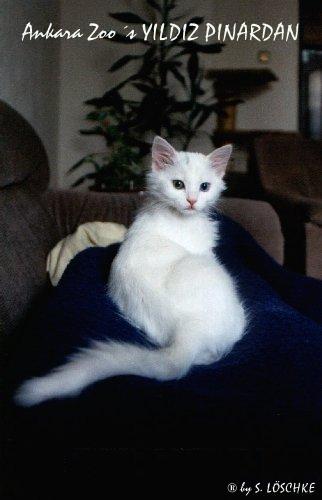 Yildiz' intelligence and flexibility is remarkable. She copes easily with new situations. No matter if mom's dog or the shots at the vet, she quickly comes to an arrangement with everything. Her trust in the humans and her self-confidence can hardly be destroyed.
White cats can be deaf. Breeding white cats needs circumspection, know-how, sense of responsibility and if necessary, sometimes renunciation if it turns out, that something is wrong with one or another cat. I couldn't discover any abnormal hearing at Yildiz. Meanwhile she did the audiometric test. Only this way you can find out weather it's OK. The result was as expected, her hearing is normal on both ears. It doesn't seem to be true, that 95% of the Turks in Ankara zoo are deaf, as I read very often. At least these days it doesn't seem to be true anymore- if it ever was. I can't believe that just my dream cat is among those 5% cats, that can hear.
Nobody can be t h a t lucky, or what do you think?
источник:  http://www.erkr.de/ezoo.htm                © Copyright by S. Loeschke